10 Signs You Should Invest In Replacement Crane Parts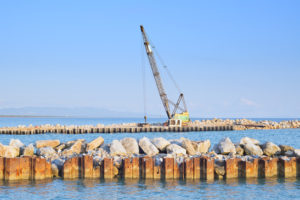 The work that a crane provides for various types of companies is often the lifeblood of its very existence. Without this valued piece of equipment, that company's client base would likely be carved up all of its competitors.
That's why having access to replacement crane parts is so vital to keeping that flow going. Listed below are 10 indications that investing in such parts is the right thing to do:
Budgets
The size of the project or the financial constraints of the business itself need to be taken into consideration. That's because the value of replacement crane parts can't be overlooked, since knowing where to go when it comes to finding companies that have large inventories available keeps costs down.
Contract Considerations
Construction projects and other crane-oriented jobs are often under a tight schedule that have to be met. These business contracts usually have clauses in place that result in financial penalties being levied for going beyond the scheduled date of completion. Such situations can be alleviated by having replacement crane parts.
Competitiveness of the Industry
In addition to those penalties, the likelihood that a company's reputation takes a hit can be devastating is high. Future potential clients will wonder if you'll be able to handle the job and rival companies will be sure to use it against you at every opportunity.
Weight Lifted by the Crane
Certain industries require their cranes to undertake massive lifts, which can take a toll on the parts that allow for those circumstances. If you happen to be in a heavy-lifting business, bolstering your crane supply parts is forward-thinking strategy.
The Job Site in Question
In some cases, a job site might be in some remote part of the world or country. Not having replacement parts on hand can be a nightmare, even with access to parts companies that have their logistics in place. By making purchases beforehand, such concerns dissipate.
Weather Conditions
Just as age and weight lifted can reduce the lifespan of crane parts, the time of year can also make things rough. During the winter months, bitterly cold temperatures might abruptly cause parts to fail. Meanwhile, brutal summer heat can also have a negative impact.
Original Manufacturer Isn't Around
Occasionally, crane parts might be from companies that have closed up shop. That might be cause for crisis when it comes to particular jobs, unless plans to make sure that a clear source for replacement parts was in place.
Working with an Older Crane
While a crane does plenty when used, it's not immune to potential breakdowns, especially older models. Companies that are working with such equipment need to have some assurances that parts for certain models will be available. The only way to guarantee continued use is an investment in replacement parts.
Aging Crane Supply Parts
Even if a crane is relatively new, some parts that make it work might need to be replaced. Companies can't afford to have those parts die on them, since the alternative is that work grinds to a halt. Keeping a check on when parts were last changed makes for a smooth replacement part purchase.
Warranty Status
Given the short amount of time crane parts are under warranty, it makes sense to have replacement ones on hand. Depending on whether a company even offers an extended warranty, it's likely less expensive to invest in replacement parts.
Making Things Easier
Getting in touch with Craneco Parts & Supply is one way to eliminate concerns when it comes to replacement parts. Combining a wide inventory, knowledgeable staff and superb logistics, we know the business of crane supply and can make sure that you move forward instead of being stuck in neutral or falling back. Contact us today.