The Most Popular Uses for Mobile Cranes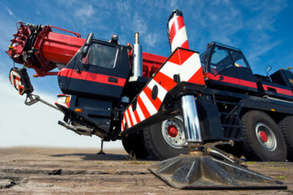 While cranes in general are an integral component of the industrial world, the wide range of different types available all have a variety of assets that can help get the most use out of them. One of the more popular in this realm is the mobile crane.
For this particular type, certain things also have to be considered. These issues are connected to having mobile crane parts available in the event of damage or the simple wear-and-tear that comes from consistent use. Within that need is the comfort of having a crane part supplier that can both provide such items and also find time to have all of the logistics in getting those parts to a customer covered.
When it comes to mobile cranes, certain uses tend to stick out in relation to their popularity. Listed below are three of the most popular uses for these cranes:
Doing the Heavy Lifting
Moving around incredibly heavy items in any type of working area isn't something all cranes are necessarily equipped to handle. By using mobile cranes, container shipping areas on docks are more able to smoothly move massive amounts of cargo in a comparatively shorter period of time.
In reality, whether near or far from the water, anything that requires handling massive amounts of product needs a crane that has both access and the requisite power to deliver on a regular basis for a company.
Working in Tight Areas
Building projects that take place in urban centers or other tightly-constrained landscapes need a crane that can maneuver in areas that might otherwise be inaccessible. Undertaking such a task requires assembling the mobile crane parts and then maneuvering within the limited space available.
This market continues to grow because of the growth in popularity of urban living, which translates into a greater need by cities to manage the infrastructure needs for new and repurposed areas of living that are in the midst of being built.
Remote Locations
The ability to transport a crane can also be a severe challenge to the logistics know-how of a company. However, as the name clearly indicates, a mobile crane can head to distant areas that would otherwise offer an unforgiving environment.
Commodity-based industries generally use such equipment, including those doing mining in rugged areas and oil companies that require offshore assistance. It's these types of instances that reinforce the value of that access to a quality crane part supplier. Without one, work grinds to an immediate halt and the bottom line for the company in question gets a little bit weaker.
Professionals in Every Sense
Craneco Parts & Supply has been an invaluable source as a crane part supplier since first opening its doors in 2003. Knowing that the marketplace offers many different companies that can offer such cranes, Craneco makes sure to have on hand mobile crane parts for those numerous brands.
This exhaustive list include ones from American Hoist, Galion, Genie, Grove, Koehring. Link-Belt, Lorain, Manitowoc, P&H and Terex.
Besides the vast inventory it keeps on hand for all of the above brands, Craneco also has a knowledgeable staff that can handle orders and offer the sort of cogent advice that can be important in moments of crisis. Once the order is sent out, an awareness of where it's currently located allows for a confident grasp of when the customer should receive the order.
Given all of those reasons, it makes sense to develop a connection with Craneco Parts & Supply in order to keep things running on all cylinders. Contact us today.