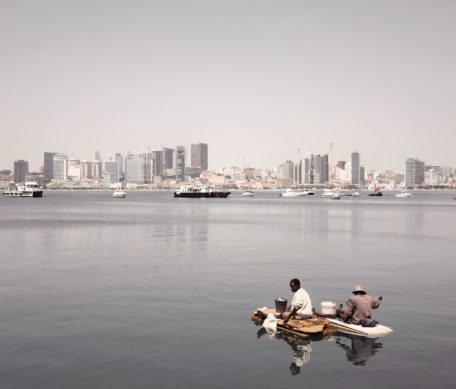 Crane Parts in Angola
Angola is nearly 20 years removed from its devastating Civil War, and it's now one of the fastest-growing economies in both Africa and the world. Over $30 billion was invested in the reconstruction of new infrastructure to support public hospitals, schools, and other community services, and this construction constitutes approximately 10% of the country's GDP.
Notable architecture around Angola includes the Iron Palace, Cathedral of the Holy Saviour, Luanda, and Edificio Sonangol.
Angola's revenue is also driven largely by diamonds and crude oil, which are mostly traded to China in bilateral exchange for machinery parts, construction materials, and mechanical and electrical products. This provides the country with enough revenue to afford importing much of the technology and materials needed to modernize its architecture.
Construction Market in Angola
Decades of violent conflict left the Angolan countryside in ruins, with wildlife populations decimated, farms destroyed, and landmines hidden everywhere. This makes many commercial construction projects difficult. It's not uncommon for heavy machinery like cranes to detonate a buried landmine, causing damage that needs to be repaired.
Still, Angola holds some of the most important ports on the Western coast of Africa, and it's working hard on becoming a tech hub too. Underwater optic fiber and stronger Wi-Fi signals are leading to the renewed growth of the Angolan economy. These major construction projects require heavy machinery and equipment to complete, and this all needs to be imported.
Crane Parts in Angola by Brand
Craneco's team knows how to navigate the complexities of shipping industrial parts to potentially hazardous construction sites across Angola. We provide parts and support for a wide variety of crane brands, including:
We understand the unique logistics of working in Angola and service all major cities and town across the country, including:
Luanda
Huambo
Lobito, Benguela
Benguela, Benguela
Lucapa, Lunda Norte
Kuito, Bié
Lubango, Huila
Malanje, Malanje
Mocamedes, Namibe
Soyo, Zaire
Bringing Modern Technology to Traditional Construction
Craneco Parts & Supply has taken a high-tech approach in serving Angola with crane parts since opening and shipping internationally in 2003. Our crane specialists can get you the right part as fast as possible to minimize job site downtime so you can complete construction projects on deadline.
You can't afford to lose productivity while waiting for spare parts – contact Craneco Parts & Supply to learn how we can help get your crane parts in Angola at the lowest prices.