Aerial Work Platform Parts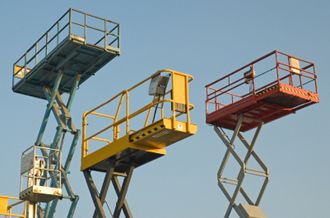 Work on a job site can often mean working at different levels, which entail workers to be available at both ground level and above. Handling the latter duties means that aerial work platforms need to be working at high efficiency so that multiple jobs can be addressed simultaneously.
At some point, those platforms will inevitably require maintenance, which means that having a reliable source for aerial work platform parts is vital to making sure that things stay on track.
However, given the vast number of options when it comes to lifts like either industrial or max scissors, or telescopic or articulated booms, many companies simply lack the available inventory and scope of knowledge that's needed for these aerial platform parts.
For example, when it comes to either of the scissors, not many crane parts companies like Craneco Parts and Supply can accommodate close to 100 different models. The same holds true for the booms, with each type having over 50 considerations each.
Scissor Lifts
Those scissor lifts can be either electric or engine-powered, depending on what's required for the job. The latter (the Maxx type) is needed when dealing with rougher terrain, but regardless of the circumstances involved, working with a company adept in determining the needs of its customers in this select area is integral to the ultimate success of a project.
The inventory of that aerial platform parts company should be wide enough to account for virtually any eventuality with regard to scissor lifts, but at the same time, provide cost efficiency to the customer. In addition, a willingness to adapt the unique specifications that those customers may require should always be part of the entire equation.
Articulated Booms
For articulated booms, also known as knuckle booms or more commonly cherry pickers due to their ability to maneuver within tight constraints, maintaining their viability can literally be the difference between life and death. That's because many of these are used by power companies that work with electrical wires or by fire departments and rescue squads that are tasked with saving lives.
While some using these booms simply need them strictly to conduct business operations, any breakdown for either segment can cause havoc or even lead to tragedy. Therefore, having easy access to aerial work platform parts offers a certain peace of mind.
Telescopic Booms
The same can be said for telescopic booms, which are also known as stick booms. These aid getting the work done where accessibility concerns are encountered, which means that any company in this market should be able to adapt to what a customer is seeking when it comes to aerial parts.
The Choice is Simple
All of these parts are simply one component of a competitive industry, so there may be concern about whether a company like Craneco Parts and Supply can handle the needs when it comes to different brands.
With over a decade in the aerial platform parts industry, Craneco is well equipped for the task, with coverage for the following companies: Calavar, Condor, Genie, Grove Manlift, Manlift, Manlift AWP, Marklift, Renegade, Simon Stratolift, Weber, JLG and Skytrak.
That sort of coverage makes Craneco the go-to company for aerial work platform parts, since the combination of a wide inventory and knowledgeable, helpful staff often serves as the lifeblood of many companies. So when the choice needs to be made, the answer is as easy as saying Craneco Parts and Supply.
Craneco Parts & Supply specializes in Aerial Work Platform Parts. We supply aerial work platforms and parts for the following brands and models:
Calavar
Condor
Grove**
Manlift
Marklift
Renegade
Manlift AWP
Simon
Stratolift
Weber
JLG
Skytrak
Our reputation for excellence in aerial work platform knowledge has been built over time by our exceptionally skilled team. We make sure each aerial work platform part is cost-efficient and designed to customer's specifications.
INDUSTRIAL SCISSOR & MAXX SCISSORS
CM1932, CM1932EJ, MSM25B, S1632E, S2032E, S2046E, S2648E, S2668E, S2669, S3268E, S3284, S4088, S4088E, SM19, SM1932EJ, SM2033BE IND, SM2033BE IND, SM2033E IND, SM2129E IND, SM2134E IND, SM2232BE, SM2232EE, SM2232EJ, SM2430EE IND, SM2532BE, SM2532E, SM2632BE, SM2632EE, SM2632EJ, SM2633BE IND, SM2633E IND, SM2633EE IND, SM2634E IND, SM2634EE, SM2646BE, SM2646E IND, SM2658E IND, SM2658EE, SM3088 MAXX, SM3146E IND, SM3146EJ, SM3157E IND, SM3158E IND, SM3158EE, SM3160E IND, SM3184 MAXX, SM3184E MAXX, SM3184XT MAXX, SM31B MAXX, SM31BE, SM31BS, SM31HC, SM31RT MAXX, SM3269, SM3269XT, SM3270, SM3270D, SM3270DF, SM3270E MAXX, SM3280XT MAXX, SM3288 MAXX, SM3884 MAXX, SM3884E MAXX, SM3884XT MAXX, SM42B MAXX, SM42BE, SM42RT MAXX, SM4688 MAXX, SM4688E MAXX, SM4688XT MAXX, SM5696E, T110D44R, T110EUROD44R, T40D420, T40D42R, T40EUROD420, T40EUROD42R, T40EUROD440, T40F220, T40F420, T40F42R, T60D440, T60D44R, T60EUROD440, T60EUROD44R, T60F240, T60F440, T60F44R, T60JD440, T60JD44R, T65JD440, T65JD44R, T65JF440, T65JF44R
ARTICULATED BOOM
A100J, A125J, A33NEJ, A40NE, A45EJ, A45J, A60J, A62J, A80J, AMZ106XT, AMZ131XT, AMZ36E, AMZ39NE, AMZ40, AMZ40B, AMZ40BE, AMZ40BXT, AMZ40E, AMZ40XT, AMZ46NE, AMZ50, AMZ50E, AMZ50HD, AMZ50XT, AMZ51, AMZ51E, AMZ51XT, AMZ56, AMZ56XT, AMZ66XT, AMZ66XT, AMZ66XT, AMZ68XT, AMZ68XT, AMZ86XT, AMZ86XT, AMZ86XT, AZ0106, AZ0106XT, AZ0131XJ, AZ0131XT, AZ040BXT, AZ36E, AZ36EJ, AZ39NE, AZ40, AZ40B, AZ40BE, AZ40BX, AZ40E, AZ40XT, AZ44ND, AZ44NE, AZ46E, AZ46NE, AZ50, AZ50E, AZ50HD, AZ50XT, AZ51, AZ51E, AZ51XT, AZ56, AZ56XT, AZ66, AZ66XT, AZ68, AZ68XT, AZ86, AZ86XT
TELESCOPIC BOOM
MI40, MI40B, MI45, MI50, MI50B, MS25B, MS25BX, MSM25BX IND., MZ36B, MZ36BE, MZ40, MZ40AS, MZ40E, MZ46, MZ46A, MZ46B, MZ46C, MZ46CX, MZ46HS, MZ46RT, MZ48B, MZ50, MZ56, MZ66, MZ66A, MZ66B, MZ66BEU, MZ66BS, MZ66C, MZ66D, MZ66DJ, MZ66X, MZ71X, MZ72D, MZ76, MZ76C, MZ76K, MZ78X, MZ82C, MZ82X, MZ90, MZ90C, MZI45, MZO116, MZO116B, MZO116C, MZO116D, T40, T60, T66JEUROD440, T66JEUROD44R, T66JF44R, T80D440, T80D44R, T80EUROD440, T80EUROD44R, T86JD440, T86JD44R, T86JEUROD440, T86JEUROD44R
*Craneco is not an authorized dealer for all the above manufacturers.
**Craneco is an authorized Grove Manlift dealer.