Lattice Boom Crawler Cranes
Craneco Parts & Supply excels in supplying OE and quality replacement parts for mobile telescopic truck cranes, rough and all terrain cranes, lattice boom crawler cranes and lattice boom truck cranes.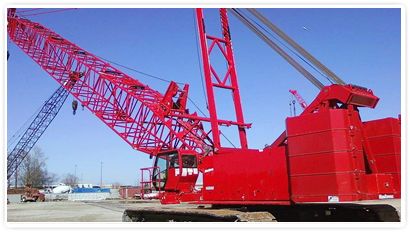 When it's time to move the really heavy material, the need for a lattice boom crawler crane clearly becomes evident. By taking advantage of the steel rods that help provide that strength, the job becomes infinitely easier.
The Cost of Doing Business
However, lattice boom crawler cranes parts can be vulnerable to rust and the inevitable wear and tear that accompanies every piece of equipment that provides such rigorous support. That means having the ability to quickly access crane replacement parts from a trusted source will help eliminate downtime that could occur, which is always a benefit to the bottom line.
In addition, the typical lattice boom crawler crane is not something that can simply be transported back to a dealer when something isn't working right. The massive size of the equipment involved requires assembly to be done on site, so replacing those key parts is something that can be aided immeasurably by having parts on hand.
Down Time Can Be a Disaster
Important industries are able to remain on track, thanks to the availability of crawler crane accessories that Craneco Parts and Supply can provide. Issues such as downtime and the need for a steady work schedule have become much more relevant in recent years, with the aging infrastructure that currently needs to either be replaced or fixed across the United States in the form of such areas as bridges and highways.
Any repairs that need to be made can't wait around for crane replacement parts since these important facets are literally connected to life and death issues regarding the safety of those individuals using the infrastructure involved.
What's the Capacity?
As far as lattice boom crawler cranes parts are concerned, the lift capacity requires a flexibility so that in the event that a company's jobs suddenly take on a much wider scope, they can switch between low and high capacity.
The Only Name to Remember
Craneco Parts and Supply is clearly aware of the value of this important segments of the crane community since they deal with the biggest name brands when it comes to crawler crane accessories. Whether it's Manitowoc, Terex or some other company, the ability to provide outstanding service is something that helps set us apart.
Therefore, it makes sense to take advantage of our more than two decades of offering quality lattice boom crawler cranes parts, other crawler crane accessories or crane replacement parts. The investment will be worth it when production runs smoothly and the bottom line shines, so contact Craneco Parts and Supply today for more information.
Crane Types