Lattice Boom Truck Cranes
Craneco Parts & Supply excels in supplying OE and quality replacement parts for mobile telescopic truck cranes, rough and all terrain cranes, lattice boom crawler cranes and lattice boom truck cranes.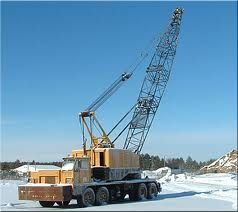 Very few of the construction projects around the world are concluded in short fashion, with most extending months and years into the future. During that time, lifting high-tonnage parts and equipment doesn't happen unless a quality lattice boom truck crane is available.
Economic Factors to Consider
Plus, given the likelihood of encountering inclement weather at some point, it becomes imperative to keep such cranes away from such potential damage to the crane parts.
That may not always be possible, but even without weather issues, the length of such projects makes the value of having a quick source for truck crane parts a wise option to have. That's because these crane replacement parts can help limit any downtime, one of the key factors in any construction project.
A Versatile Option
The true value of a lattice boom truck crane comes from the versatility it possesses while it's in use. With the capability to simultaneously lift and maneuver, the working load can be supported. That allows separate driving capability by the crane's lower portion, which in turn benefits the bottom line for a company due to the reduction of transportation concerns.
Having jibs that can extend past the main boom is a necessity if a construction company wants to get the most value out of its lattice boom truck crane. However, for that to happen, counterweights at the base of the machine need to be both adjusted and added with a great deal of delay, which is another reason that having an effective source for truck crane parts keeps things running smoothly.
Consistency Coupled With Experience
Craneco Parts and Supply has the flexibility to adapt both its crane parts and crane replacement parts to the most prominent companies in the business. Among that elite group are brands such as Terex, Grove, and Manitowoc won't be forced to scramble when seeking to find truck crane parts for their equipment.
Ever since opening its doors in 2003, Craneco Parts and Supply has been an invaluable component of the crane industry. Part of that is due to their outstanding service, which has most crane replacement parts on hand. That means that once an order for crane parts is received, it can be shipped out in quick fashion, so when you're seeking the best option in this area, make sure to contact Craneco Parts and Supply.
Crane Types